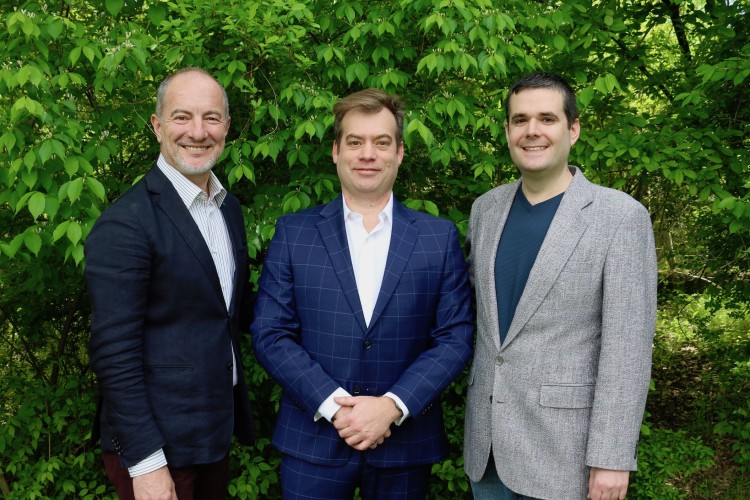 A new creative team has emerged to lead the Princeton Festival forward with adventuresome programming and an eye to confirming Princeton as a destination for performing arts lovers. Pictured left to right: Rossen Milanov, Marc Uys, and Gregory J. Geehern
"We're ready to lead Princeton forward into a creative era filled with fresh ideas, expressive voices, and innovative music." – Rossen Milanov

Rossen Milanov
Edward T. Cone Music Director
Rossen Milanov has established himself as a conductor with considerable national and international presence. In addition to leading the Princeton Symphony Orchestra and the Princeton Festival, Mr. Milanov is the music director of the Columbus Symphony Orchestra, Chautauqua Symphony Orchestra, and chief conductor of the RTV Slovenia Symphony Orchestra in Ljubljana. Noted for his versatility, he is also a welcomed presence in the worlds of opera and ballet. He has collaborated with Komische Oper Berlin (Shostakovich's Lady Macbeth of Mtzensk), Opera Oviedo with the Spanish premiere of Tchaikovsky's Mazzepa and Bartok's Bluebeard's Castle (awarded best Spanish production for 2015), and Opera Columbus (Verdi's La Traviata). He has been seen at New York City Ballet and collaborated with some of the best-known choreographers of our time such as Mats Ek, Benjamin Millepied, and most recently Alexei Ratmansky in the critically acclaimed revival of Swan Lake in Zurich with Zurich Ballet and in Paris with La Scala Ballet. Mr. Milanov is deeply committed to music education, presenting Link Up education projects with Carnegie Hall and the Orchestra of St. Luke's and leading the PSO's annual BRAVO! concerts for thousands of school children.
Marc Uys
Executive Director
Marc Uys has led the administrative team responsible for day-to-day operations of the Princeton Symphony Orchestra with its June Princeton Festival and PSO BRAVO! education programs since 2015. He has implemented innovative new educational programming and forged relationships with new community partners, increasing access to the core artistic offerings of the PSO. Prior to this, he maintained a busy career as a violinist, performing - as soloist, chamber and orchestral musician - in major venues throughout Europe, South Africa, and in the US. He has served as production assistant and manager for a number of international tours, including William Kentridge's "9 Drawings for Projection." He holds a master of music degree from the University of Cape Town.
Gregory Jon Geehern
Festival Director
Gregory Geehern, D.Mus., has served as assistant conductor and chorus master of Puccini's Madama Butterfly and Beethoven's Fidelio, among other Festival productions. Greg has been called a "gifted new presence" for his work with full choirs, opera choruses, and chamber ensembles.