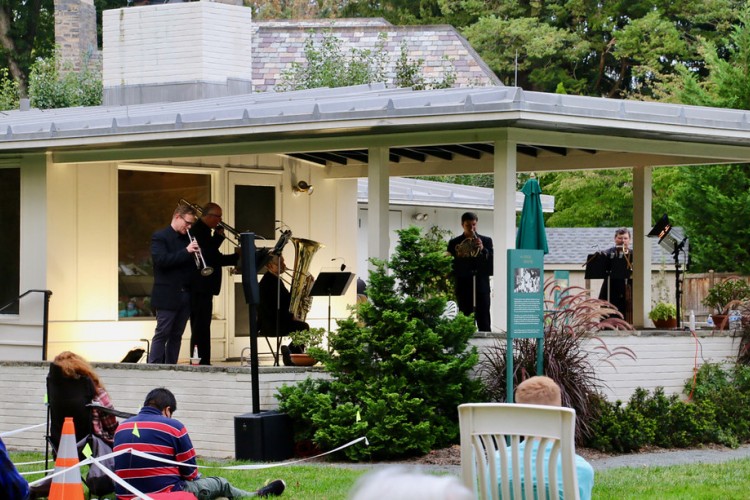 Brass Quintet
Thursday, October 15, 2020
Concert - 5:30pm
Morven Museum & Garden
Program

Paul Dukas (arr. Barrington)
Fanfare from ​La Peri

Samuel Scheidt (ed. King)
Galliard Battaglia

Felix Mendelssohn (arr. Holcombe)
Wedding March from Midsummer Night's Dream
Jim Buffington (arr. Glasel)
Tying The Knot
John Williams
Star Wars​ Fanfare
Jerry Goldsmith (arr. Snedacor)
Theme from ​Star Trek: The Next Generation
"Ragged" Time
Scott Joplin (arr. Frackenpohl)
- The Easy Winners
"Lucky" Roberts (arr. Frackenpohl)
- The Junk Man Rag
arr. Don Gillis
Just A Closer Walk With Thee
Tribute To The Big Bands
arr. by Irving Rosenthal
- Little Brown Jug
N. Washington (arr. Wuopio)
- I'm Getting Sentimental Over You
Bart Howard (arr. Gale)
- Fly Me to the Moon
John Lennon & Paul McCartney (arr. Cassey)
Songs by The Beatles
- I want to Hold Your Hand
- Yesterday
- A Hard Day's Night
John Philip Sousa (arr. Frazier)
Two Marches
- Washington Post March
- The Liberty Bell
About The Musicians
Jerry Bryant is principal trumpet/orchestra personnel manager of the Princeton Symphony Orchestra and the Glimmerglass Opera Festival in Cooperstown, NY. He is also a member of the New York City Opera Orchestra and the Hartford Symphony Orchestra. A regular on Broadway, Jerry has performed with Wicked, My Fair Lady, The King and I, Beauty and the Beast, and the Radio City Music Hall Orchestra. He has also performed with the Metropolitan Opera, National Symphony (Washington D.C.), New Jersey, and Jacksonville symphonies to name a few.
Jonathan Clark is principal horn of the Allentown Symphony Orchestra and the Bay Atlantic Symphony, and a member of Symphony in C, Princeton Symphony Orchestra, and the Reading Symphony. Along with these orchestras, he also plays with the Philadelphia Orchestra, Philly Pops, Pennsylvania Ballet, and the Delaware Symphony Orchestra. Outside of the concert hall, Jonathan has recorded with NFL Films, played at the Walnut Street Theater, and played for the popular musicals Les Misérables and Miss Saigon on Broadway.
Thomas Cook, 2nd trumpet, has performed with the Princeton Symphony Orchestra since 1994. He is also 2nd trumpet for the Lancaster Symphony and the Academy of Vocal Arts Opera Orchestra in Philadelphia. An active freelance musician in the tri-state area, Tom regularly works with the Pennsylvania Ballet, Opera Philadelphia, the Reading Symphony, the Kennett Symphony of Chester County, the West Jersey Chamber Symphony, the Bristol Riverside Theater, and the Endless Mountain Music Festival. He has been principal trumpet for the Pennsylvania Philharmonic, the Greater Trenton Symphony, the New Jersey Capital Philharmonic, Princeton Pro Musica, and Boheme Opera of New Jersey, and other orchestras.
Jonathan Fowler is the associate professor of tuba and euphonium at West Chester University of Pennsylvania (WCUPA). Jonathan performs extensively with orchestras and chamber ensembles throughout the mid-Atlantic, including the Princeton Symphony Orchestra, and the New Jersey Festival Orchestra. Previous engagements have included performances with Philadelphia Orchestra, Orchestra of St. Luke's, New Jersey Symphony Orchestra, Harrisburg Symphony, Syracuse Symphony Orchestra, Reading Symphony, Orchestra of St. Cecilia's, Opera Theatre of New Jersey, and Orchestra Teatro Grattacielo. He has performed with notable acts such as Sarah McLaughlin, Il Volo, Celtic Woman, Jefferson Starship, and Michael Feinstein.
Lars Wendt has been the 2nd trombonist of the PSO for 26 years and has been involved with the PSO BRAVO! outreach program as a performer and, most recently, as a coordinator for the ensembles. He studied under David Uber while at The College of New Jersey (TCNJ) former principal trombone of the NBC Symphony Orchestra, NYC Ballet, and NYC Opera Orchestras. Lars performs with the Riverside Symphonia as 2nd trombone, and has performed with the former Garden State Pops, Trenton Symphony (Capital Philharmonic), and the Westfield and Plainfield Symphony Orchestras. His musical interests are broad and he performs with a variety of ensembles playing jazz as well as pop.