Princeton Symphony Orchestra to Receive $1.75 Million Donation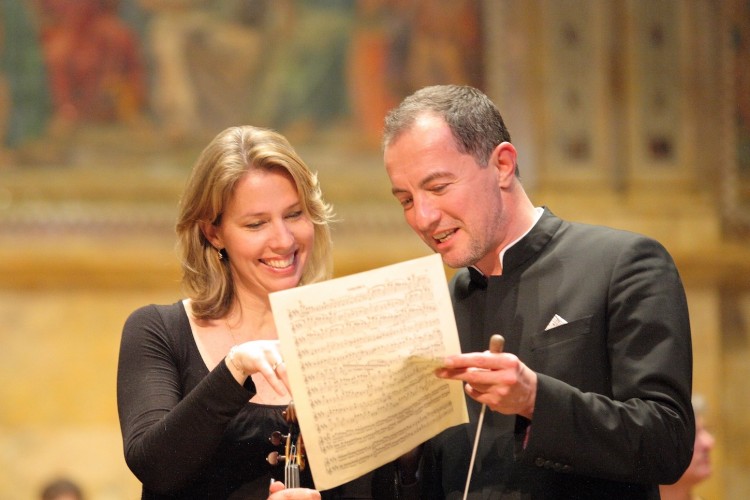 Princeton Symphony Orchestra (PSO) has been named as the recipient of a $1.75 million grant from The Edward T. Cone Foundation. In recognition of this and the Foundation's prior gifts to the PSO's endowment, the orchestra's two most prestigious positions are named in perpetuity. Rossen Milanov is now the inaugural Edward T. Cone Music Director and violinist Basia Danilow now holds the George W. Pitcher Concertmaster Chair.
Long time Cone Foundation Trustee T. Randolph Harris says, "Ed Cone and George Pitcher were devoted supporters of the PSO, and I can think of no more appropriate and exciting way to honor their memory than to endow these two positions."
Gratified by the Foundation's gift, Mr. Milanov says, "I feel inspired and incredibly honored to be the recipient of this extraordinarily generous expression of recognition for the Princeton Symphony Orchestra and for the difference we make in the lives of so many people."
Edward T. Cone was a composer, pianist, author, and teacher. He enjoyed a distinguished career as a professor of music at Princeton University, and he produced several scholarly books, many of them classics in their field. His compositions include works for solo piano, chamber music, a symphony performed by the PSO in 2015, and settings of poetry by Paul Muldoon. He earned a bachelor's degree from Princeton University in 1939 where he studied under Roger Sessions and a master of fine arts degree from the university in 1942. The Edward T. Cone Foundation was founded in 1992 and has continued following Mr. Cone's death in 2004.
George W. Pitcher was a professor of philosophy at Princeton University until his 1981 retirement and the author of multiple books including The Dogs Who Came to Stay, a memoir of two of the special canines he and his life partner Edward T. Cone had in their lives. An accomplished pianist, he and Mr. Cone shared a love of classical music, opera, art, and travel. Mr. Pitcher served as a trustee of the Edward T. Cone Foundation from 1992 until his death in January 2018.
The Edward T. Cone Foundation is a major benefactor of numerous cultural and educational institutions, including Princeton University, the Institute for Advanced Study, the Princeton Symphony Orchestra, the D & R Greenway, and The Princeton Festival.