PSO Announces 2022 Spring Subscription Series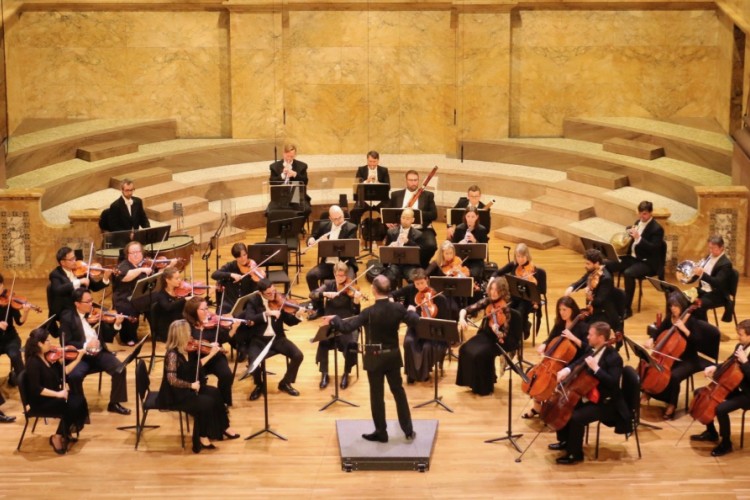 Princeton Symphony Orchestra Announces
2022 Spring Subscription Series
8pm Saturday and 4pm Sunday performances
to feature contemporary and classical works,
plus new and returning artists
Princeton, NJ—The Princeton Symphony Orchestra (PSO) is pleased to announce its 2022 Spring Subscription Series with live, in-person performances at the orchestra's home venue of Richardson Auditorium on the campus of Princeton University. The 2022 Spring Season includes works by contemporary composers James Lee III and Gabriela Lena Frank, plus symphonic works by Dvořák, Stravinsky, Brahms, and Mendelssohn. Concertos by Jean Sibelius, Antonín Dvořák, Alexander Scriabin, and Erich Korngold spotlight the talents of emerging and internationally renowned soloists.
Guest artists Diana Adamyan, violin, Mackenzie Melemed, piano, and Stefan Jackiw, violin, are appearing for the first time with the PSO, with Ms. Adamyan making her US debut. Mr. Jackiw was originally scheduled to perform with the PSO in 2020, but the concert was canceled due to the pandemic. Cellist and fan favorite Pablo Ferrández returns to Princeton, having performed live with PSO in 2019 and again on the orchestra's digital series in 2020.
Concerts take place on select Saturdays and Sundays, February - May. Edward T. Cone Music Director Rossen Milanov conducts all but one concert. He looks forward to performing back at historic Richardson Auditorium with its superb acoustics. Of the venue, he says, "Richardson is a very special, intimate concert hall with beautiful architectural details and a sense of history. There is no denying that our musicians produce an exceptional sound in this hall. It's really quite exciting to be going back 'home'."
Kenneth Bean, recently appointed as the PSO's new Georg and Joyce Albers-Schonberg Assistant Conductor, conducts the opening concert the weekend of February 5-6. The orchestra accompanies Armenian violinist Diana Adamyan as she makes her US debut performing Jean Sibelius' Violin Concerto. Also on the program are Samuel Coleridge-Taylor's passionate Ballade, Op. 33 and Antonín Dvořák's Symphony No. 9 in E Minor, "From the New World."
On March 5-6, the PSO welcomes Spanish cellist Pablo Ferrández back to Princeton for a performance of Antonín Dvořák's iconic Cello Concerto in B Minor. Rossen Milanov conducts the program which includes contemporary composer James Lee III's Amer'ican, offering an alternative perspective on Dvořák's "New World" symphony, and Igor Stravinsky's beloved Firebird Suite (1919).
The PSO gives Alexander Scriabin and Johannes Brahms double billing March 26-27. Pianist Mackenzie Melemed marks his PSO debut with a performance of Scriabin's Piano Concerto, while the orchestra is showcased in Brahms's pastoral Symphony No. 2 in D Major, Op. 73. Rossen Milanov conducts.
The season concludes May 7-8 with a concert conducted by Maestro Milanov and featuring star violinist Stefan Jackiw as he performs Erich Korngold's lush Violin Concerto. Completing the program are Gabriela Lena Frank's Elegia Andina, a musical exploration of multiculturalism, and Felix Mendelssohn's Symphony No. 3, "Scottish."
Initially, these concerts are available only by subscription, with single tickets going on sale in late November. Concerts take place on Saturdays at 8pm and Sundays at 4pm. Subscriptions start at $120. Youths 12-17 receive a 50% discount with an adult purchase. To subscribe, visit the Princeton Symphony Orchestra website at princetonsymphony.org or call 609-497-0020.
Health and Safety
The Princeton Symphony Orchestra is closely monitoring and adhering to the New Jersey Department of Health's COVID-19 Requirements. Concert attendees will receive information regarding safety procedures, entry, seating directions, etc. in advance of their selected live performance(s).
Accessibility
The Princeton Symphony Orchestra is committed to ensuring all programming is accessible for everyone, working with venues to provide needed services. Online events include digital concert resources, closed captioning, and transcriptions as appropriate. If there are questions about these or if any additional services are required, contact ADA Coordinator Kitanya Khateri at kkhateri@princetonsymphony.org or 609 497-0020. Note: some services require at least two weeks' notice to arrange.
Programs, artists, dates, and times are subject to change.
ABOUT MUSIC DIRECTOR ROSSEN MILANOV
Internationally renowned conductor and Princeton Symphony Orchestra (PSO) Edward T. Cone Music Director Rossen Milanov looks forward to collaborating in 2021-22 with established and emerging artists of the orchestral world and helming the PSO's popular June performing arts celebration – The Princeton Festival.
Respected and admired by audiences and musicians alike, he has established himself as a conductor with considerable national and international presence. In addition to leading the PSO, Mr. Milanov is the music director of the Columbus Symphony Orchestra, Chautauqua Symphony Orchestra, and chief conductor of the RTV Slovenia Symphony Orchestra in Ljubljana. During his eleven-year tenure with The Philadelphia Orchestra, Milanov conducted more than 200 performances. In 2015, he completed a 15-year tenure as music director of the nationally recognized training orchestra Symphony in C in New Jersey and in 2013, a 17-year tenure with the New Symphony Orchestra in his native city of Sofia, Bulgaria.

Mr. Milanov has collaborated with Komische Oper Berlin (Shostakovich's Lady Macbeth of Mtzensk), Opera Oviedo with the Spanish premiere of Tchaikovsky's Mazzepa and Bartók's Bluebeard's Castle (awarded best Spanish production for 2015), and Opera Columbus (Verdi's La Traviata). He has been seen at New York City Ballet and collaborated with choreographers such as Mats Ek, Benjamin Millepied, and most recently Alexei Ratmansky in the critically acclaimed revival of Swan Lake in Zurich with Zurich Ballet and in Paris with La Scala Ballet.

Mr. Milanov is deeply committed to music education, presenting Link Up education projects with Carnegie Hall and the Orchestra of St. Luke's and leading the PSO's annual BRAVO! School Day concerts. He was named Bulgaria's Musician of the Year in 2005; he won a 2011 ASCAP award for adventurous programming of contemporary music at the PSO; and he was selected as one of the top 100 most influential people in New Jersey in 2014. In 2017, he was recipient of a Columbus Performing Arts Prize awarded by The Columbus Foundation. He is a graduate of the Curtis Institute of Music and The Juilliard School.
ABOUT THE PRINCETON SYMPHONY ORCHESTRA
The Princeton Symphony Orchestra (PSO) is a cultural centerpiece of the Princeton community and one of New Jersey's finest music organizations, a position established through performances of beloved masterworks, innovative music by living composers, and an extensive network of educational programs offered to area students free of charge. Led by Edward T. Cone Music Director Rossen Milanov, the PSO presents orchestral, pops, and chamber music programs of the highest artistic quality, supported by lectures and related events that supplement the concert experience. Its flagship summer program the Princeton Festival brings an array of performing arts and artists to Princeton during multiple weeks in June. Through PSO BRAVO!, the orchestra produces wide-reaching and impactful education programs in partnership with local schools and arts organizations that culminate in students attending a live orchestral performance. The PSO receives considerable support from the Princeton community and the New Jersey State Council on the Arts, regularly garnering NJSCA's highest honor. Recognition of engaging residencies and concerts has come from the National Endowment for the Arts, and the PSO's commitment to new music has been acknowledged with an ASCAP Award for Adventurous Programming and a Copland Fund Award. The only independent, professional orchestra to make its home in Princeton, the PSO performs at historic Richardson Auditorium on the campus of Princeton University.