On Meeting Sandra Cisneros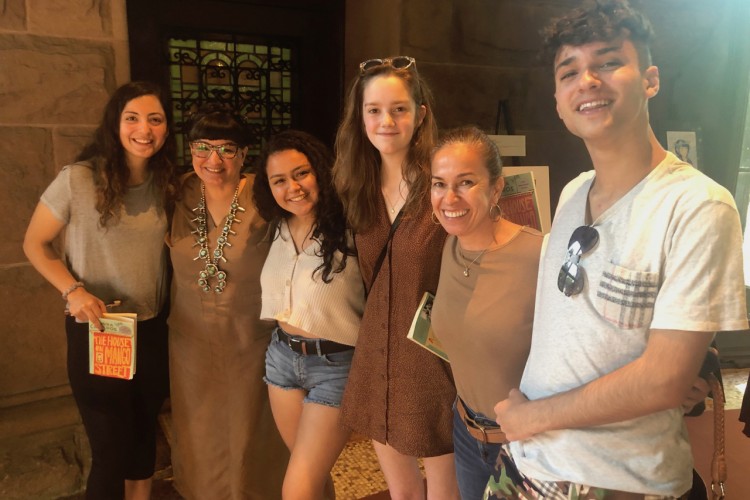 The Pennington School's Lida Castro, Spanish teacher and chair of the Language Department, brought her advanced Spanish students to the Princeton Symphony Orchestra's Saturday, May 18 author event featuring Sandra Cisneros. They had all read The House on Mango Street in 10th grade English class, but read the Spanish version as Juniors. Ms. Castro said, "The students were impressed by her personality, her sense of humor, and the candor of her answers." Pictured with Ms. Cisneros (2nd from left in the photo above) are Sophia Amaro, Gabriela Montero, Caroline Heffern, Lida Castro, and Aidan Gross.
Here's what the students had to say about the book and meeting Sandra Cisneros:
"The first time I read this book, I couldn't stop smiling at the fact that we were finally reading a book outlining both the beauty and darkness of my Latina culture."
"It was a really amazing experience to meet her in person after reading her book and hear her stories. After experiencing the book for so long meeting her was surreal and made me even more grateful for what I have and for the experiences I have had. "
"For me, being a Latina student, The House on Mango Street gave me the opportunity to read about people from my culture. Esperanza gave me a main character who persevered through hardships and made a better life for herself, which inspires me to this day. Meeting Sandra Cisneros was a surreal experience because it was crazy to talk with the person who crafted such a beautiful book. She was everything I hoped she would be and more, and I could feel her loving nature as soon as she stepped onto the stage."
"The House on Mango Street really opened my eyes as to why people write. Not only is it something that can inspire others and help them, but you can also help yourself through writing because writing it down helps to process events. That's something that has inspired me to write some of my own stuff. As for seeing Sandra Cisneros in person, it was awesome to hear from her about the book and how they're turning it into an opera."