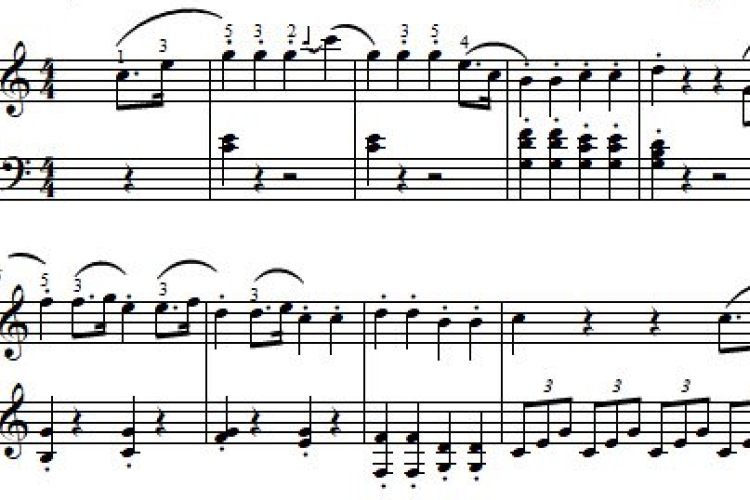 All artists except those in the Open Class must submit a video recording featuring one selection from the list below that corresponds to their category.
Elementary Artists (ages 6-9)
Amy BEACH / Children's Album, Op. 36, No. 5, "Polka"
Ludwig van BEETHOVEN / Ecossaise in G Major, WoO 23 (ABRSM Grade 3)
Robert SCHUMANN / Melody, Op. 68, No. 1
Intermediate Artists (ages 10-12)
Frédéric CHOPIN / Mazurka in B-flat Major, Op. 7, No. 1
Muzio CLEMENTI / Sonatina in G Major, Op. 36, No. 2, 1st movement
Johann Sebastian BACH / Prelude in C Minor, BWV 999 (ABRSM Grade 4)
Junior Artists (ages 13-15)
Harry T. BURLEIGH / "Frolic" from The Southland
Edvard GRIEG / "Butterfly" from Lyric Pieces, Pp. 43
Georg Philipp TELEMANN / Fantasia in G Minor, TWV 33:8, 1st movement (ABRSM Grade 7)
Senior Artists (ages 16-18)
Claude DEBUSSY / "La cathédrale engloutie" from Préludes, Book I
Franz Joseph HAYDN / Sonata in A-flat Major, Hob. XVI:46, 1st movement (ABRSM Grade 8)
Florence PRICE / Fantasie nègre in E Minor
Piano Four-Hands (ages 25 and under)
Johannes BRAHMS / Hungarian Dance in D Minor, WoO 1, No. 2
Maurice RAVEL / "Les entretiens de la belle et de la bête" from Ma mère l'Oye
Franz SCHUBERT / Marche Militaire in G Major, D.733, Op. 51, No. 2

Open Classes ​​
Our two Open Class categories offer pianists the opportunity to compete alongside a wider range of applicants with greater choice in repertoire.
Emerging Open Class (ages 25 and under): Performance level for this category is typically at or above the ABRSM Diploma level. Parents and teachers are advised to consider whether this class is appropriate for their child/student.
Experienced Open Class (ages 26 and over): Any pianist 26 years or older is welcome to apply, whether professional or lifelong amateur.
Each participant in either Open Class category must submit a video recording of one solo work (not a concerto, and not a test piece from another category) that is under 10 minutes in length by a composer chosen from the following list:

J.S. Bach, Béla Bartók, Ludwig van Beethoven, Margaret Bonds, Lili Boulanger, Teresa Carreño, Carlos Chávez, Frédéric Chopin, Samuel Coleridge-Taylor, Claude Debussy, R. Nathaniel Dett, Alberto Ginastera, György Ligeti, Franz Liszt, Fanny Mendelssohn-Hensel, Olivier Messiaen, Wolfgang Amadeus Mozart, Florence Price, Sergei Prokofiev, Sergei Rachmaninoff, Maurice Ravel, Franz Schubert, Alexander Scriabin, Clara Schumann, William Grant Still, Tōru Takemitsu, Heitor Villa-Lobos, or an original composition by any contemporary composer. A contemporary composer is defined as someone who is living as of January 1, 2022.

Open Class Guidelines
Arrangements and transcriptions are ineligible for this class.
10 minutes is the maximum time allotted, not the goal. Your video may be longer than 10 minutes including time before or after your performance, but any video with a performance lasting longer than 10 minutes will be disqualified.
One or more movements of a suite or sonata are eligible for this class as long as it is within the 10 minute time limit.
All Open Class contestants must include a scanned (PDF) copy of the piece with their application.
Artists enrolled in the Open Classes may also enter their eligible age-specific class with the requisite application fee for each class.