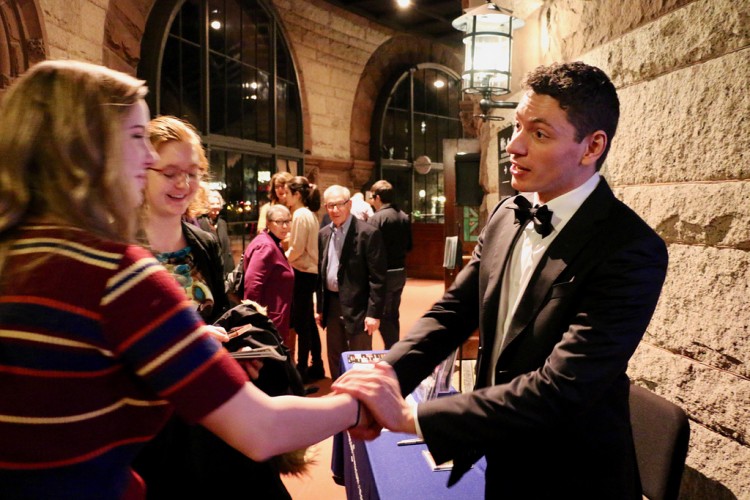 The PSO is always thrilled to reach new audiences, and we hope to make the concert experience welcoming and enjoyable for those discovering our orchestra for the first time. Here you will find answers to some frequently-asked questions. If you have further questions, do not hesitate to call Manager of Patron Services Kitanya Khateri at (609) 497-0020. We look forward to seeing you at the symphony!
When should I arrive at the concert?
We recommend arriving at least 20 minutes before the concert starts. Allow yourself time to find parking, to walk to Richardson Auditorium, and to find your seat. If you need to stop by the lobby Will Call desk to collect your tickets, allow for even more time as there can be a line.
What should I wear?
There is no formal dress code at the PSO—what is most important is that you are comfortable during the concert!
Is the concert hall accessible to those with disabilities?
The ground floor of Richardson Auditorium is fully accessible, including restrooms, wheelchair access, and handrails. As there is no elevator to the balcony level, we recommend that patrons with mobility issues choose seats downstairs. If needed, patrons may be dropped off and picked up right outside of the concert hall; simply use the Faculty Road entrance to the University. For a full list of services we provide at our concerts, check out our Accessibility Page.
May I take photos or a video at the concert?
Photography and videotaping of any kind are strictly prohibited in Richardson Auditorium.
How long do concerts usually last?
Our concerts run approximately two hours unless otherwise stated. This includes a brief intermission.
What happens if I arrive late to the concert?
If you arrive after the concert has begun, the ushers will seat you at an appropriate point in the program, so as not to disrupt the musicians and other concertgoers. While you wait to be seated, you may enjoy the live audio feed of the concert in the lobby.
May I bring my children?
Yes! In fact, youth (17 and under) and students (university/college level) receive special discounts on tickets. For information on our youth and student tickets, check out our Ticket Discounts Page. Before taking a young child to a Classical Series or Saturday Evening POPS! concert, please consider whether he or she will be able to remain still and quiet throughout the performance. Our Holiday POPS! concert is specially designed for all ages.
What should I do if I have lost my ticket?
The PSO staff is happy to provide vouchers for misplaced tickets at any time, including the day of the concert at Richardson Auditorium. If possible, please contact the Manager of Patron Services, Kitanya Khateri at (609) 497-0020 in advance of the concert to request a voucher. Kitanya is also available on the day of the concert, standing by Will Call, to issue a voucher.
What should I do if I cannot use my ticket?
All sales are final. If you are unable to attend a concert, please let us know by the start of the concert and we'll turn your ticket(s) into a tax-deductible donation worth the amount paid.